Here at Sourcing Playground we want our buyers to have the best possible sourcing experience. We want your sourcing to be as effortless, efficient an effective as possible.
Many sourcing platforms can get pretty complicated when looking for suppliers or requesting quotes. Our goal is to clear through all the clutter and simplify this process.
We honestly believe our interface for posting a project is as easy to use and navigate as possible. However, this does require a bit of work from you, to get the best results.
Here's how.
Project Name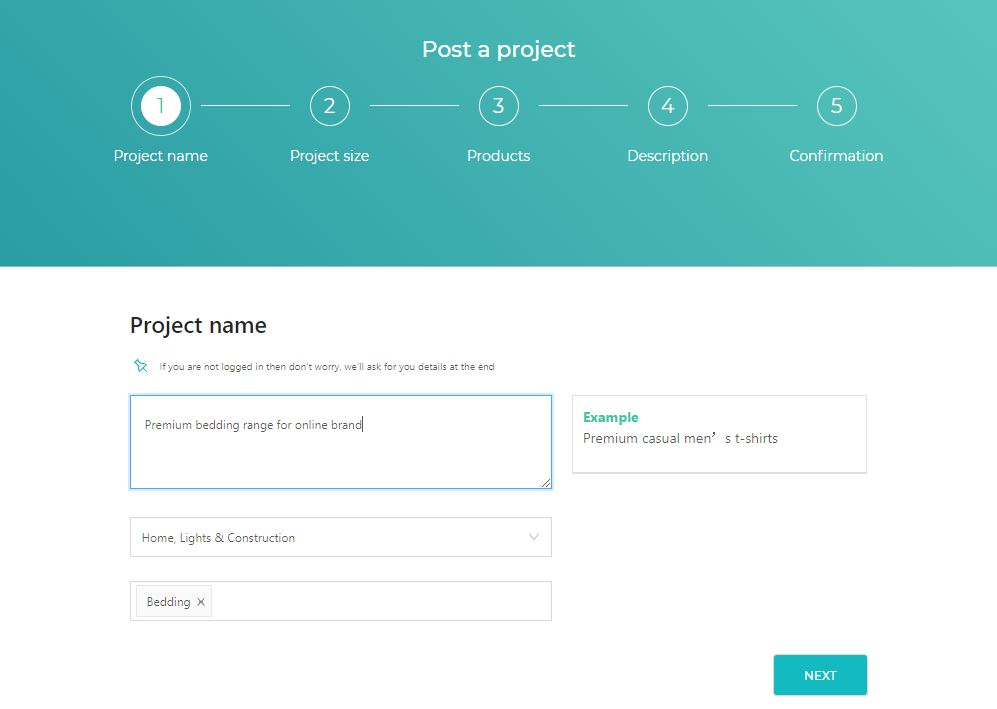 When you click on "My Project", the first of five steps will appear. You can see the number 1 highlighted at the top of the page. On this screen you can give your project a unique name.
It pays to give a project a relevant and easily remembered name, that will differentiate the project from others you may be running. If you are dealing with multiple sourcing projects, this is even more important.
However, even if you are only running one project, it's good to get into the naming habit. Then, when you discuss with a supplier, the name can be used in all correspondence regarding the project. As you move to multiple projects, you can see how a specific name for each will save time and avoid any confusion, as to which one the supplier is referring to.
Next, give some basic information about the items you are looking for. This can be short, as you will elaborate later on. Then choose the category and products from the drop-down menus.
Click "Next".
Project Size, Stage, and Supplier Type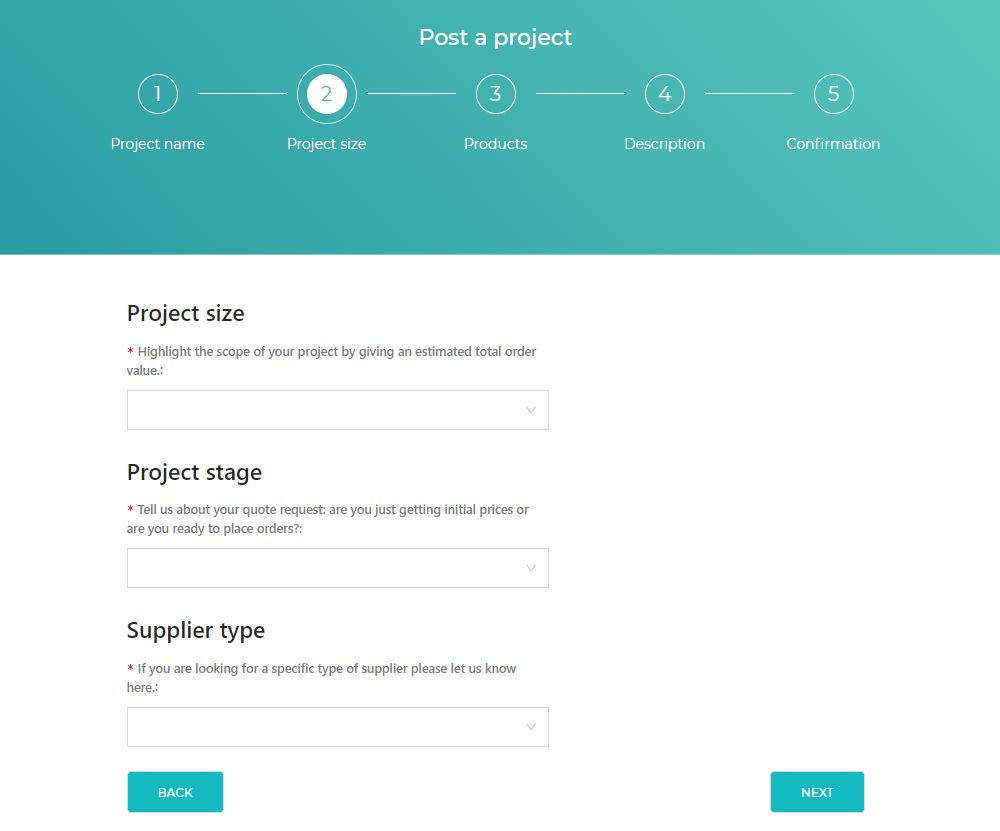 This next step requires a bit of thought from you. In a lot of cases, buyers do not give to much thought to the project size in terms of cost. This is more common with new buyers.
It's important to have a close estimation for two very important reasons. The first is pretty obvious. You need to ensure that you have enough budgeted to get from A-Z. Remember, that the project size value you choose, does not include ancillary services, like third party inspections and shipping. This number range only includes the cost of the physical product.
The second reason is a bit subtler. Suppliers range in size. If you are looking for a manufacturer (direct factory), for example, these can range from small 30 machine factories, to huge integrated factories with 1000's of machines. A small 30 machine factory is not suited for US $ 100 000 plus orders. It is extremely unlikely they will be able to handle such an order, which increases risk substantially. The same applies to huge factories with small orders. The small orders will never have priority, so again risk increases. I am sure you have heard the term "Horses for Courses"? Take it to heart.
Also keep in mind your project stage. This is something relatively unique that Sourcing Playground has implemented.
It is more likely that you will get a more competitive price, if you are in the advanced or final stage. Potential suppliers will know that you have already received quotes, so their prices need to be realistic. They will know that you have already negotiated prices with a few suppliers, and are not looking to go through a drawn-out negotiating process again. They will think twice about giving you inflated prices, as they would in the early stage, knowing there will be some negotiation. If their prices are 20% higher than similar quotes, they know you will dismiss them out of hand. If you are only in the early stage, prepare for a longer price negotiation period.
Also take note, and give some thought to the supplier type. The pros and cons of the different supplier types given, is a blog article on its own. For our purposes, let's just compare manufacturers and sourcing agents (trading companies). Going directly to a manufacturer requires more experience in your field, and you will likely get better prices via negotiation. If you are relatively inexperienced, a sourcing agent might be better suited, as they will have a better knowledge of the market, and can guide you. Keep in mind, that the price a sourcing agent charges will more than likely be higher that going direct to the factory, as the sourcing agent also needs to make a living. Now it's time to click "Next".
Products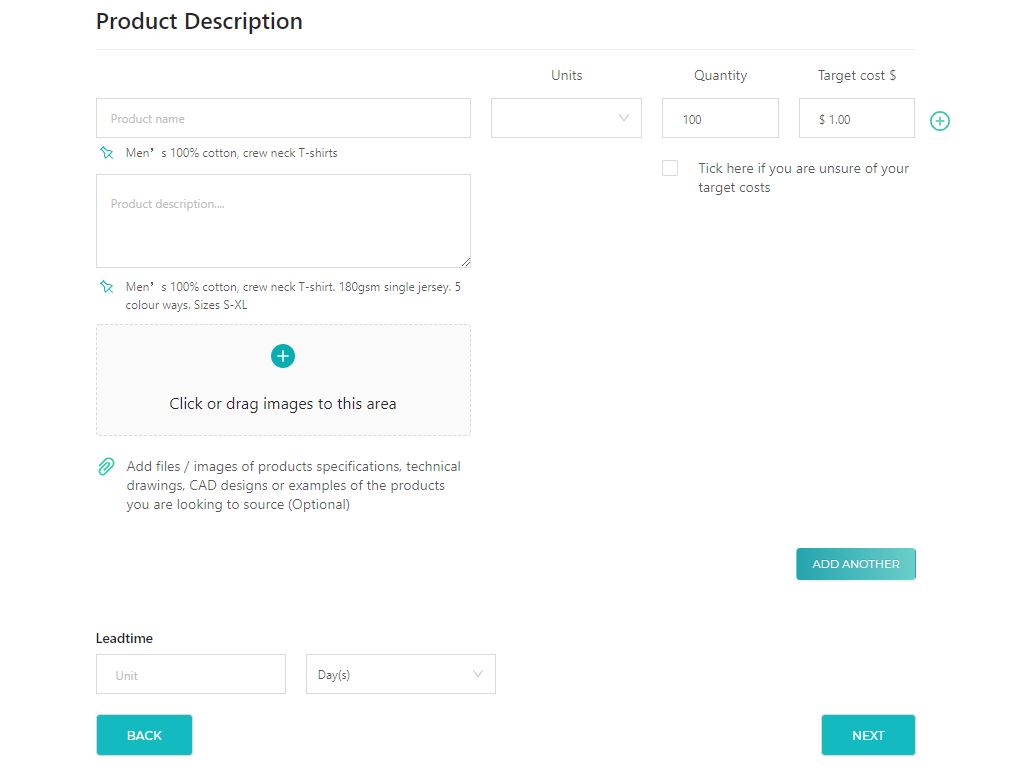 This is the step where detail is the most critical. The more detail you can give, the greater your chance of finding a great supplier. And make no mistake. We want you to find the best supplier possible for your project, so spend some time on this page.
Give your product an accurate and easily understood product name.
If you are looking to find a T-shirt supplier, do not just say T-shirts. This is too broad. If you are looking for men's T-shirts, give the name "Men's T-shirts". If you can be more specific, even better. "Men's 100% cotton, crew neck T-shirts"
You also have the opportunity to give your quantities and target prices. This is a very useful feature.
This has been touched on before. Large factories are not usually set up for smaller production runs. If they are, they are usually not competitive when it comes to price. The reason is simple. Their fixed costs are high. When these fixed costs are amortized over a smaller number of units, they contribute a lot towards price. A smaller factory, will have lower fixed costs. You get the picture. If you only have a vague idea or unsure of what you should be paying, check the corresponding box. You do not want to give suppliers a higher target than necessary, do you?
As you can also see there is a product description area on the page. Give as many specific details as you possibly can. Above we used a Men's 100% cotton, crew neck T-shirt as an example. Now you can drill down. You can give the fabric type and weight if you know it. For example, 180gsm single jersey. You can specify the quality of the yarn used (carded, combed, or semi combed), and even the construction of the fabric (gauge, singles, doubles, etc). There is room for a lot more information about our T-shirt, but we do not want to focus on one specific product. Just keep in mind, the more detail the better.
If you have a technical package, CAD, plans, drawings, photos, etc upload them using the upload tool. These are very important to the supplier, as a visual representation of your product is an important aspect. Usually this is the best way for a supplier to determine if they can manufacture your product.
The final thing to insert is your expected leadtime. Leadtime is the time it takes a manufacturer to make your products. You need to be realistic here. If you give an unrealistic leadtime, it could scare potential suppliers off, as they might see this as unreasonable, and therefore you, as a buyer, are unreasonable. All buyers want their product as quickly as possible, but you need to take variables such as the average leadtime in your industry, time of year, etc, into account. Now we can move on to the next screen, by clicking the "Next" button.
Project Description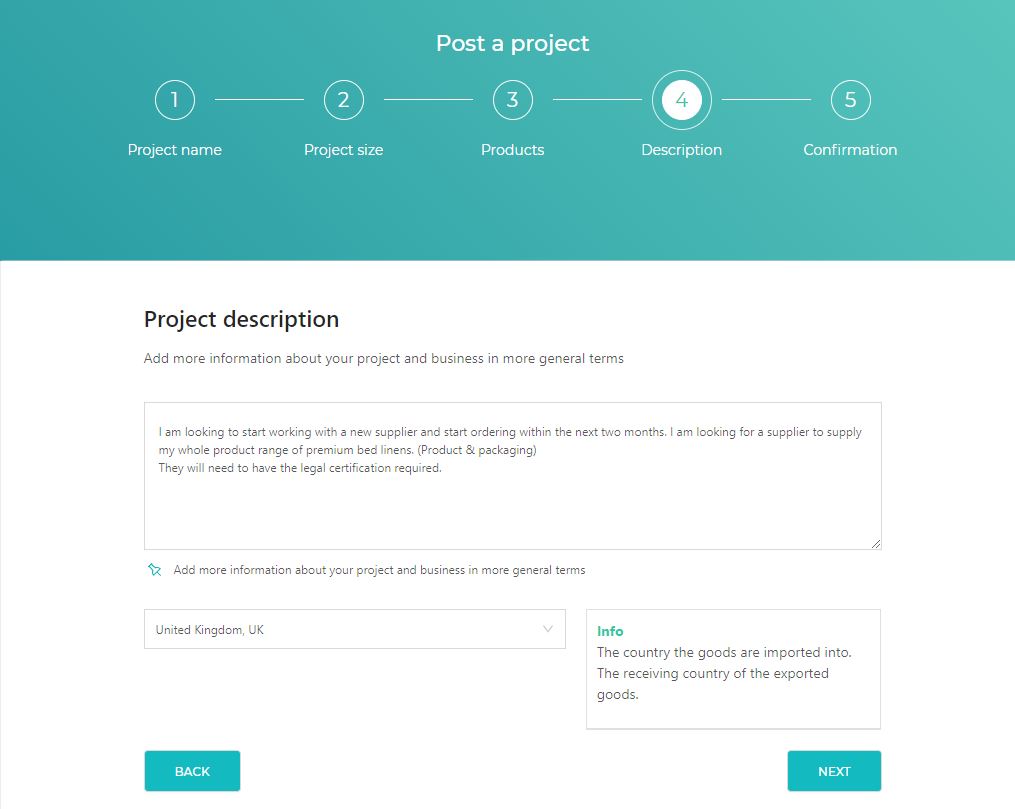 The 4th step gives you the ability to tell potential suppliers more about your project and business in more general terms.  From the above example you can see that the project is for an online store to be launched for home furnishings. This description can be very helpful for a few reasons. Maybe you do not want to hold the physical stock yourself, and want the supplier to drop ship. Suppliers that are experienced in manufacturing for online stores, often have the facilities for this, or can make arrangements for you via a third-party warehouse. There is also a drop-down menu for you to select the country the product will be imported to. Different countries have different requirements for import, different tariffs, etc. These will ultimately affect prices, incoterms, transport times, and documentation. Some suppliers might also not have experience in the import requirements for specific countries, so it might be better to avoid such suppliers.
Click 'Next'

You will then need to sign up as a supplier to post your project to our supplier database and start to receive quotes.
We hope this article assists you in posting the best possible project, as we are 100% sure the best possible project post will give you the best project results.