If you are a budding fashion designer or a brand looking to develop a new line of clothing then getting your ideas translated into actual garments will require a bit more information than basic sketches and mood boards.
Before you start working with a manufacturer you will need to create a tech pack for your products & garments. Don't worry we have all the details covered in this blog about what it is, what should be included and who can help create one for you.
A technical package also known as a "tech pack" is an important document containing technical information and components needed to construct a product. It is used within the textile & apparel sector to clearly communicate and explain the details of a product to a manufacturer. It is an extremely important document for designers and production teams to send to a manufacturer to ensure every product detail has been well communicated including: fabrics, materials, measurements, colours, trims, accessories, labels, tags etc.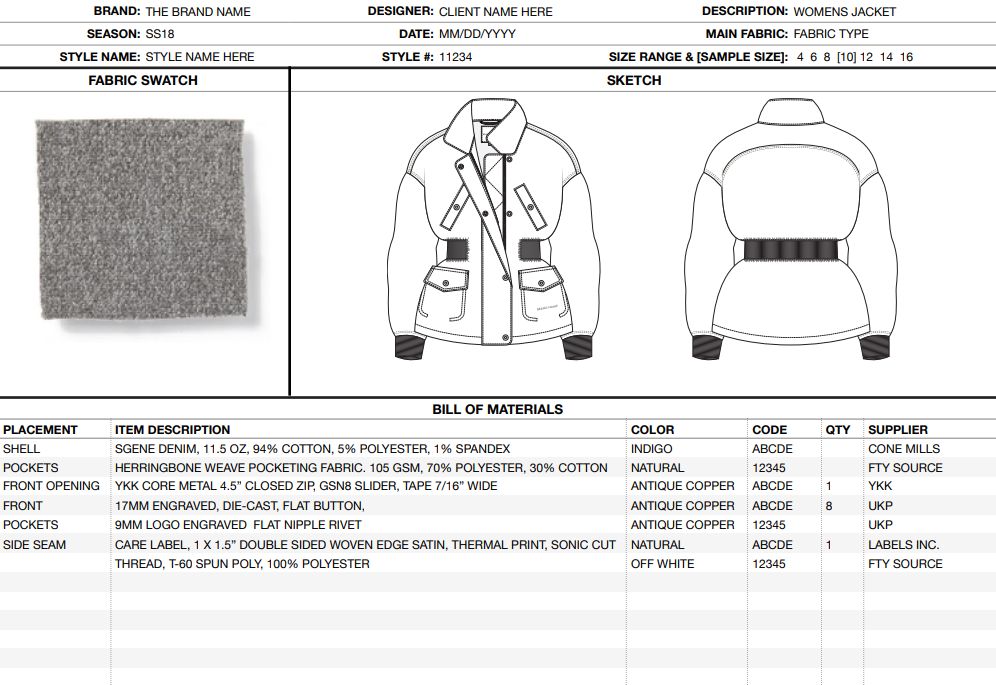 Why is a tech pack important?
Saving time & money – it is important to create a tech pack for your product to ensure the garment that is made during sample stages and production is to your exact specifications, reducing errors and mistakes. When you start to work with a manufacturer you will likely need to see different sets of samples to ensure you are happy with the finished product. The tech pack ensures that the samples that are sent are to your exact specification and ensure you are not wasting time and money having to reproduce them if they are incorrect.
Cost of the garment – the details within a tech pack will help the manufacturer to determine the cost per unit as they can breakdown the cost for each component that you've asked for. It will also help the manufacturer to know how long it will take to make depending on the complexity of the product and the finishes required. Using your tech pack will allow you to compare costs from different manufacturers as you can accurately see the breakdown they are charging you.
Quality control – tech packs are also key to ensuring quality control and consistent sizing across your range. A good tech pack will detail the measurements you need for each size to ensure you are delivering the best product for your customers.
Security – likely you will want to put in place a contract between yourself and the manufacturer detailing the relationship and the responsibilities for both parties. It is important to include a section that sets out that all orders, shipments you receive should be to the exact same specification as the final agreed (golden) sample that you've approved. So that if there are any variances or changes to the product that you did not request (fabrics, trims, measurements etc) the manufacturer would be liable and potentially incur fines.
What needs to be included in a tech pack and what it should look like?
(Not limited to)
Product name Technical drawings / sketches – showing the construction of the garment
Measurements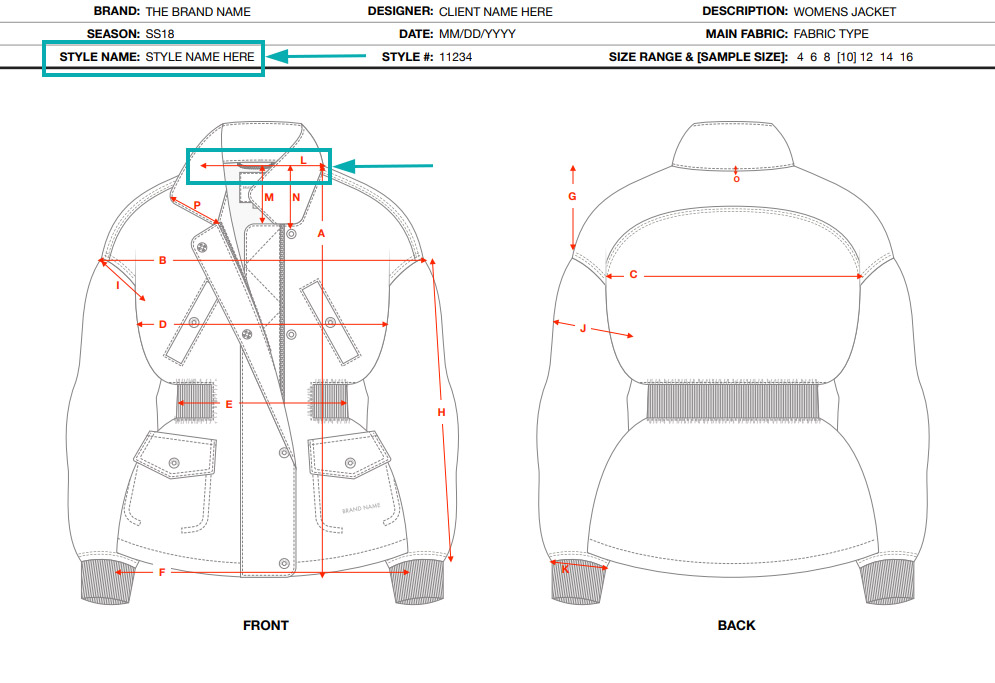 Sizes
Colour
Material / fabric breakdown – '72% nylon, 28% elastane 170gsm'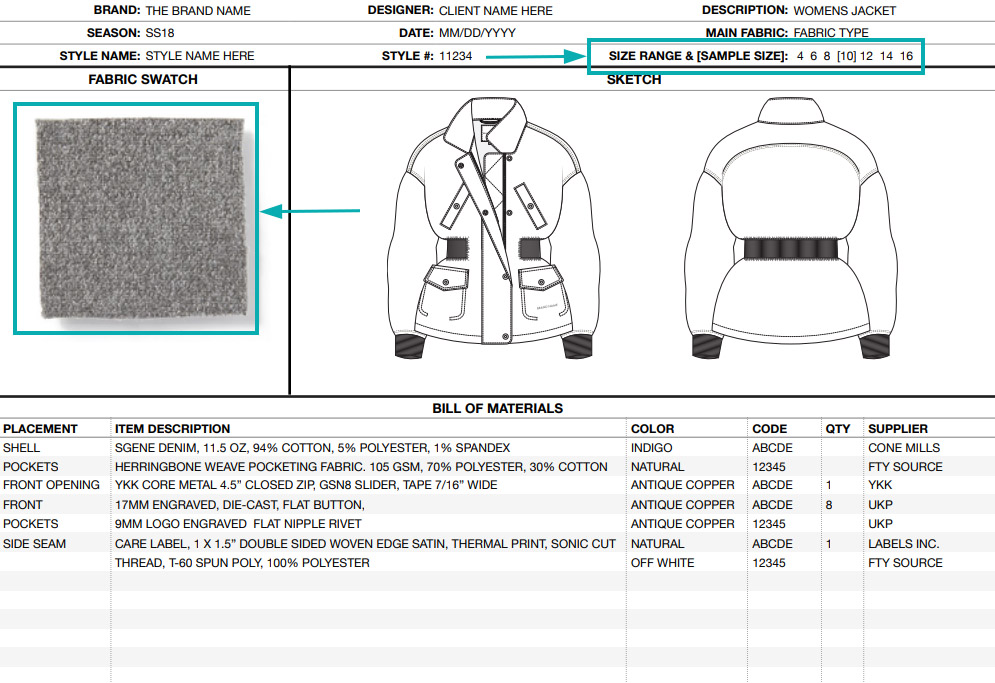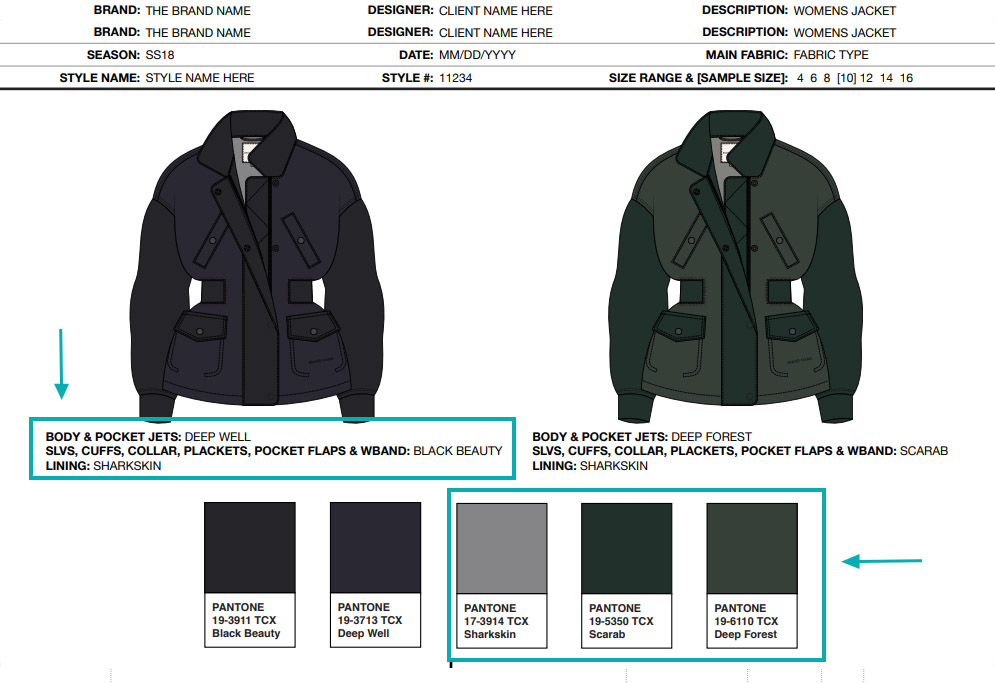 Trim & label information
Packaging information for bagging each garment
Packaging information for shipping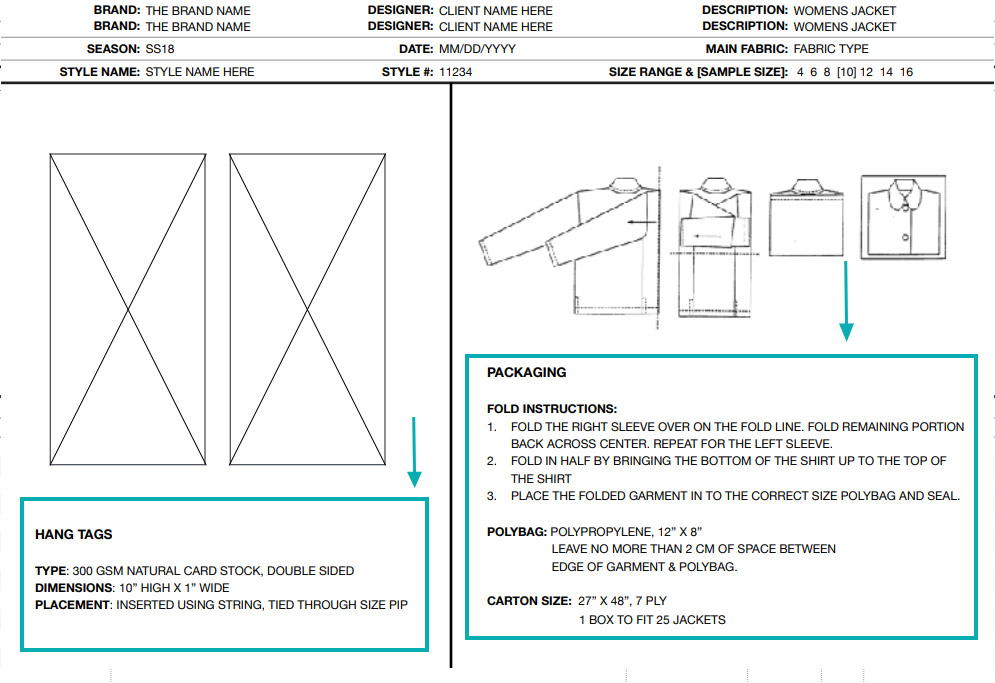 Lead time required
Samples required
A good tech pack should illustrate and annotate the garment with key information and instructions to help advise the manufacturer about how to make it. The more information you can add about the details the better. 
How do you make a tech pack & who can make one?
You can work with a product designer or garment technologist who you would commission similarly like you would using a graphic designer. The designers would likely create the tech pack using Adobe Illustrator to mock up the technical drawings and garment construction to show how the garment should look. Alternatively, there are lots of templates online that you can download for free to help get you started.
Do I need a tech pack?
If you are looking to manufacture a specific product and you would like something custom made to your own specifications then yes you will need a tech pack. It will ensure you get exactly what you are looking for and improve the communication and work flow between yourself and the manufacturer.
If, however you are happy to take existing designs for a product and customise it then most likely you will not need a tech pack. A lot of manufacturers have their own products and garments that they produce and you can then tweak these designs to fit your needs. You will be limited on the changes you can make however the core construction of the garment would have already been designed.
If you're looking for a manufacturer for your future brand or clothing line you can sign up for a 7 day free trial to Sourcing Playground's AI sourcing database.