Q1. Give us a brief introduction to yourself & your company?
My name is Kobina Arkaah, the President of Solid Rock Association, my dream has always been to play a leading role in helping underprivileged children. To put it simply, I wish to ensure that underprivileged children have access to good education, shelter and food, to promote a better living conditions and standards within our communities.
Solid Rock Association (SRA) is non – profit organisation committed to changing the cycle of poverty into a cycle of wealth. The organisation is built on the values of independence and sustainability, which has driven the organisation to pursue projects that focuses on creating an environment that allows the underprivileged producers to reach a wider market.
Currently we have over 100 members, that produce quality jewelry, hand crafted wooden products, textiles, fashion, bags, Shea butter and much more!

Q2. What country are you based in and what is your country best known for?

We are based in Ghana; the population is approximately thirty million inhabitants with more women than men. Ghana is historically famous for its gold, but is also known for its diamond, bauxite and timber production. Ghana is one of the key suppliers of cocoa, to the large companies such as Cadbury! Ghana's economy has advanced by 6.8% year on year in the fourth quarter of 2018, compared with 7.4% in the previous year, and above all Ghana is a peace loving county

When it comes to football Ghana has won four continental trophies and known for its hospitality
3. How many years have you been established for and how many employees do you have?
Solid Rock Association was established 10 years ago and had only 6 employees!

Q4. Solid Rock Association is a World Fair Trade Organisation; can you explain the principles of what it means being a Fair Trade company? How this affects how the products are made?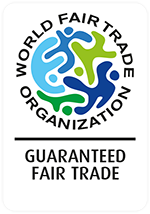 As a fair trade organisation, we comply with the principles of fair trade especially; to create opportunities for disadvantaged producers, who without fair trade couldn't have competed in global trade! The principle of fair trade is the hub upon which the energies are released in a positive manner to give hope to marginalised producers. Products made by producers are sourced in a sustainable manner, ensuring respect for the environment.
Q5. Explain the products & services you can offer to buyers? What is your speciality and unique offerings?
We offer unique products and services to a wide array of buyers, some of these include: pillow cases, Bed sheets, wood carvings, jewellery, Fashion (Shoes, Textiles), Cosmetics (Shea Butter) baskets, ladies bags, cane Furniture and cane baskets. Currently our most innovative product is natural Shea butter, which comes in a natural calabash container made especially to compete with standard plastic containers, which are non-biodegradable.
We also provide Tradition African music for hotels, school, musical concerts and conferences.          
The Organisation works by providing quality products and according to buyer's specifications. We also work with buyer's to develop new products for the market.
Q6. Can you explain what is meant by a social enterprise like Solid Rock Association and how your company helps local producers and the wider community?
Our social civic responsibility is to help break the cycle of poverty, by creating a cycle of wealth in undeserved communities. Through our membership with the World Fair Trade organisation, we have partnered with the French Development Agency to deliver the Equite Project.
We provide training for our producers in the principles of fair trade, new product development, enhancement, financial management, export trade facilitation, marketing, and protecting biodiversity.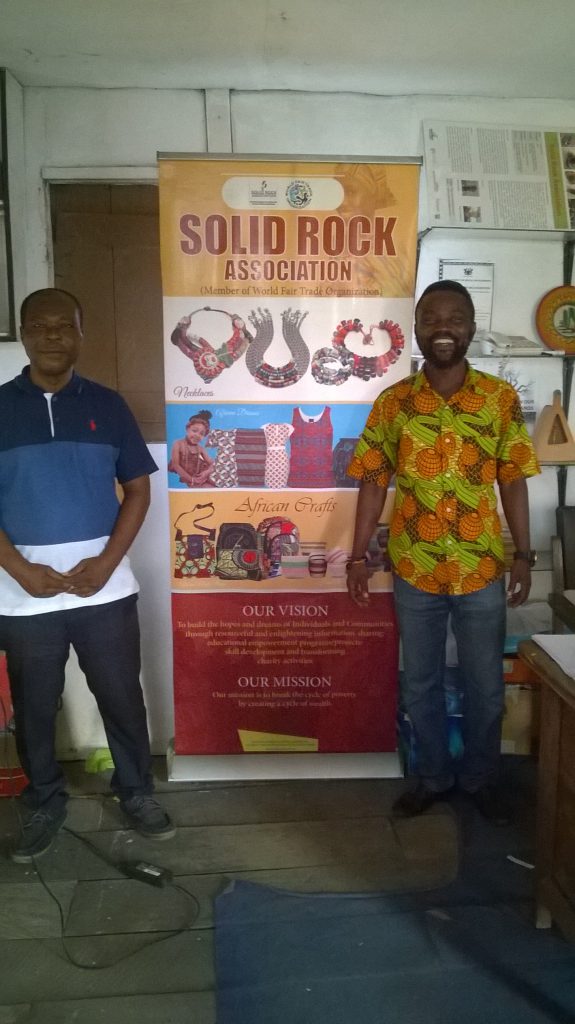 The project is specifically meant to create a deeper understanding of how fair trade works and along with other other aspects, such as: building a strong membership able to produce quality products, manage finances, imbue the entrepreneurial spirit/mindset, to meet orders specifications placed by buyers.
Q7. How do you help drive sustainability throughout your organisation?

Through developing strong communication between staff and producers, so that results can be shared with a large community of buyers
Involve key stake holders in product development and production
Develop strong relations with buyers
Engage producers through constant training to deliver quality and on time
Policies put in place to guide the association and its members
Q8. What impact could buyers have working with a company like Solid Rock Association and how does working with Guaranteed Fair Trade Organisations help improve conditions of workers?

There will be positive impact on the lives of producers as a result of sustained trade with buyers, which will result in life changing circumstances for the producer. Producers will be able to afford shelter, good water and food, while also being able to pay school fees for their children, and above all put smiles on the faces of women and children.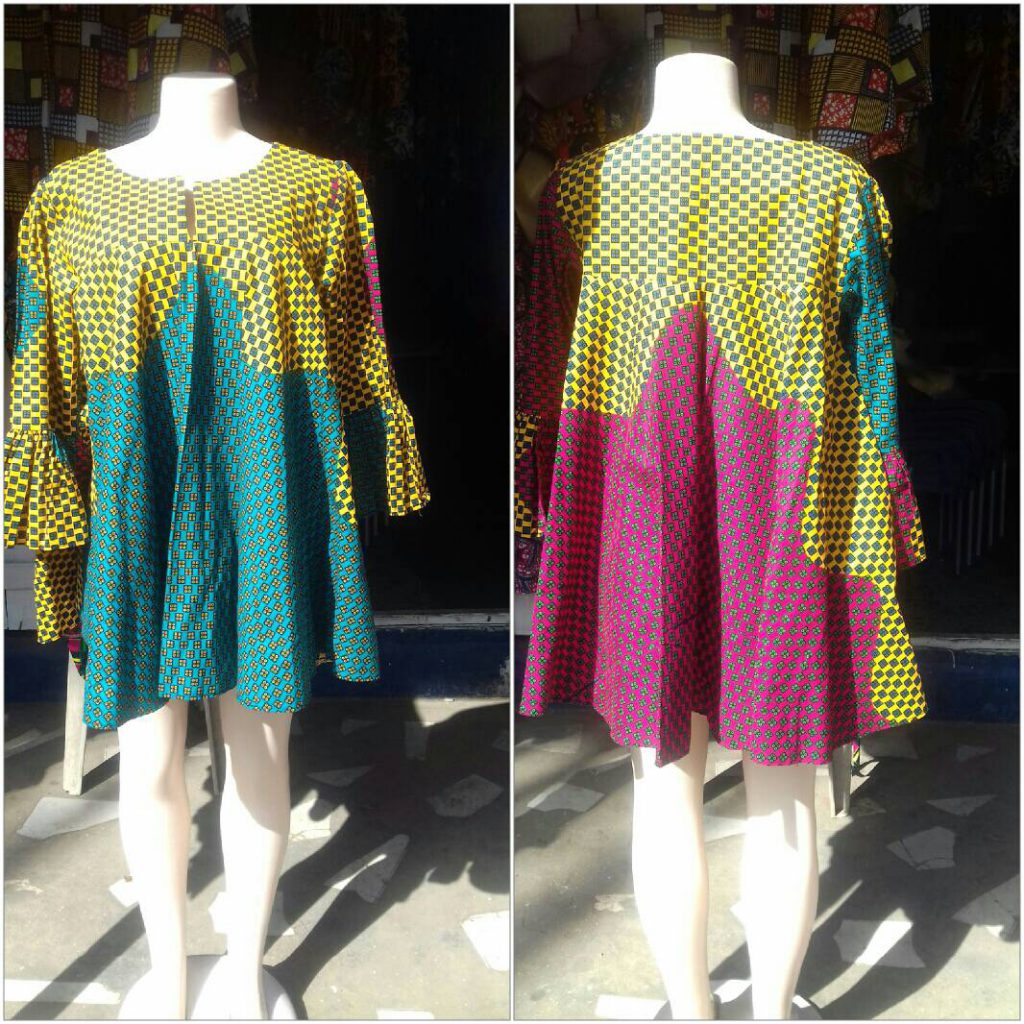 Fair trade provides the opportunity to be seen and heard by a wider community of buyers
As a Guaranteed fair member, it is our mandate to monitor producers and imbue in them the compliance to follow the 10 principles of fair trade, which enables the organisation to source fair trade buyers.
Q9. Is there anything you are excited about that's happening in manufacturing / trade industry at the moment? And how do you see it having an impact?

The Sustainability mindset is growing! I'm excited about the impact of recycling and the reuse of products, especially in the fashion industry were used dresses are reused and is now a new trend.
If this attitude continues, pollution from textile manufacturing will reduce and the impact of chemicals discharged into local water bodies will be reduce significantly.
Q10. How have you found Sourcing Playground and how is it valuable to you?
Through the partnership with the WFTO we have come to hear about Sourcing Playground. We believe being a supplier here gives us the opportunity to make a real impact, which will put smiles on the faces of producers.
Q11. What one piece of advice would you like to share with the Sourcing Playground community?
Let's work together and share ideas in other to reduce poverty among underprivileged producers!