Here at Sourcing Playground we are not an auditor or certifier – rather we focus on transparency. Our goal is to empower all of our buyers to make the best choices for their business. Sourcing Playground currently verifies suppliers in a number of ways including:
Authenticating email addresses
Uploaded documents or links to documented evidence for certifications held, memberships, and policies
Displaying each supplier's reviews & ratings and feedback on past projects
We have teamed up with some of the biggest industry standards within key manufacturing sectors so that we can cross reference and check any claim made by a supplier with the standards themselves to verify their membership, including ethical and sustainable standards.
Who are we working with?
Standards & Certification we can verify
Certification standards and organisations that have transparent data, Sourcing Playground is able to cross reference and check suppliers to make sure they are valid members with valid certification.
WFTO guaranteed member (World Fair Trade Organisation)
WRAP certified suppliers (Worldwide Responsible Accredited Production)
Social Accountability International (SA8000)
Bangladesh Accord
Global Organic Textile Standard (GOTS)
Fair Trade
Leadership in Energy and Environmental Design (LEED)
Forest Stewardship Council (FSC)
Better Cotton Initiative (BCI)
Oeko-Tex
Organic Content Standard
Content Claim Standard
Recycled Claim Standard
Global Recycled Standard
Responsible Down Standard
Responsible Wool Standard
What does this mean for me as a brand?
We will make it easier for buyers to choose compliant suppliers matching their requirements with globally recognised, industry standards.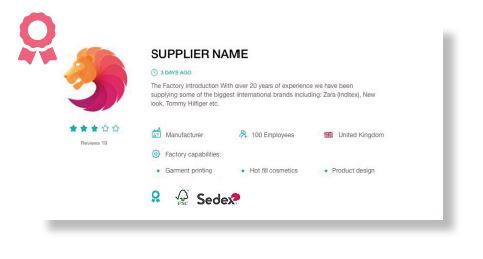 As a brand you are now able to easily see which suppliers have a current membership or active certification with key standards and organisations on Sourcing Playground.
This allows you to ensure you are working with top rated manufacturers for your products and to make it easier for you to choose better, more compliant manufacturers.